Explore NYC From Our Hotel Near Times Square
Less Than Ten Minutes from the Crossroads of the World
Take in the billboards and bright lights of the big screens in Times Square. For visitors and locals alike, the area near Times Square is the beating heart of the city. Its popular restaurants and shops, some open 24-hours, earn New York the reputation of being "the city that never sleeps".
The most visited tourist attraction in the world, Times Square does not fail to captivate with its impressive neon lights and towering skyscrapers. Here you'll see Broadway theaters, yellow taxis, and awestruck tourists. You may have seen it recreated for movies and on TV, but there's nothing like seeing this iconic location up-close.
Ready to experience Times Square like a local? Read our advice on how to get to the Theater District by taxi like a local or discover one of the best star-studded restaurants on Broadway.
Click here to view all of our current special offers
or
Grand Central Terminal
Architectural landmark

89 East 42nd Street

212.768.4242
Rockefeller Center
Historic landmark for dining & shopping

45 Rockefeller Plaza

212.332.6868
Radio City Music Hall
Art deco theater

1260 6th Avenue

212.465.6741
United Nations Headquarters
HISTORIC LANDMARK AND OPEN TO VISITS

United Nations Headquarters New York, NY 10017
Museum of Modern Art - MoMA
Contemporary art museum

11 West 53rd Street

212.767.1050
Times Square
Bright lights, shopping & shows

Times Square Manhattan

212.768.1560
Bryant Park
A beloved, year-round New York City public park

New York, NY 10018 Bryant Park, Address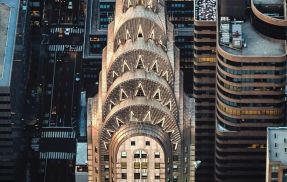 Empire State Building
Iconic art deco office tower

350 5th Avenue

212.736.3100
Lincoln Center for the Performing Arts
Multi-venue complex home to prominent cultural groups

10 Lincoln Center Plaza

212.875.5000
Hotel 48LEX New York

517 Lexington Ave, New York, 10017, USA
Phone: (212) 888-3500