Grand Central Terminal
The Best of NYC Under One Star-Studded Roof
There are few places in NYC that evoke the history of the city as powerfully as Grand Central Terminal. Its Beaux-Arts architecture and cameos in countless movies give it an irresistible air of tradition, making you feel instantly connected to millions of other people who have passed through it. With the vaulted ceilings and throngs of commuters, it can be an intimidating and overwhelming place when you first step in. But New Yorkers, treating it like just another train station, have the rhythm and flow down pat.
Explore and savor the most famous terminal in the world like only a New Yorker could.
The Basics
Grand Central is a hub for four of the city's busiest subway lines and most of its commuter rail. The subways are on the lower level, while the commuter trains are accessible from the main concourse—the huge hall with that beautiful ceiling. There's food and shopping on all levels. With all this going on, it's totally acceptable to stop and orient yourself. But the most important tip for passing as a New Yorker (and not irritating the ones hustling to their trains): Don't suddenly stop in the middle of a ramp, hallway, or concourse. The only time a New Yorker will really yell at you is when you prevent them from running where they need to get. Mosey on off to lean against a wall or consult one of the maps. No one will thank you, but no one will scream at you, either.
The Shopping
Grand Central may be a train station, but it's still a NYC train station—that means you can expect an array of luxurious shops tucked into every corner. While there are all the standards like an Apple store, MAC cosmetics, and plenty of gift shops, the real jewel of Grand Central is the Grand Central Market, a farmers-market style array of stalls and booths selling fresh produce, high-quality meats, and prepared foods. This is where New Yorkers pick up groceries to cook when they get home, or buy a ready-made meal for the long train ride home.
The Dining
Speaking of food, Grand Central has a whole floor of it: the Dining Concourse, one level down from the main floor. It's a somehow-intimate feeling space with a wide array of dining options. No doubt the most famous is the Grand Central Oyster Bar, which has been serving fresh seafood for over 100 years. Clams, oysters and curated wine pairings are available all day.
or
Grand Central Terminal
Architectural landmark

89 East 42nd Street

212.768.4242
Rockefeller Center
Historic landmark for dining & shopping

45 Rockefeller Plaza

212.332.6868
Radio City Music Hall
Art deco theater

1260 6th Avenue

212.465.6741
United Nations Headquarters
HISTORIC LANDMARK AND OPEN TO VISITS

United Nations Headquarters New York, NY 10017
Museum of Modern Art - MoMA
Contemporary art museum

11 West 53rd Street

212.767.1050
Times Square
Bright lights, shopping & shows

Times Square Manhattan

212.768.1560
Bryant Park
A beloved, year-round New York City public park

New York, NY 10018 Bryant Park, Address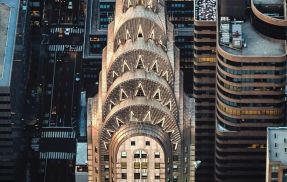 Empire State Building
Iconic art deco office tower

350 5th Avenue

212.736.3100
Lincoln Center for the Performing Arts
Multi-venue complex home to prominent cultural groups

10 Lincoln Center Plaza

212.875.5000
Hotel 48LEX New York

517 Lexington Ave, New York, 10017, USA
Phone: (212) 888-3500